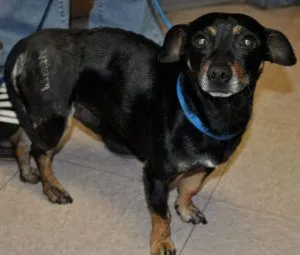 In the Spring of 2011, a little dachshund mix was brought to Penn South
Pet Clinic after being hit by a car. His sweet personality quickly made
him a staff favorite and we nicknamed him Monkey. After unsuccessfully
trying to find his owner we were faced with a decision: take him to the
animal shelter or treat him and find him a new home? We decided to do a
fund raiser for his care and proceeded to surgery.
The community heard about Monkey's situation and we were overwhelmed with
the outpouring of generosity! Fairview Elementary School donated money
from their annual penny drive and the Bella Foundation
matched that donation! Thus the Monkey Rescue Fund was born. Monkey
recovered from his surgery and went to a wonderful home where he enjoys a
daily therapeutic swim in an indoor heated pool. His legacy lives on
at Penn South, and we have been able to treat, house, and re-home
several unfortunate animals – all thanks to the on-going generosity of
our clients and community!

Here are some pictures of our Happy Endings: